The traditional crafts are one of the things we at Stundars hold dear, and it has been like that since the very beginning. Already when the founder, Gunnar Rosenholm, first began to dream about something more than an ordinary local history museum, he gave the artisan's a prominent role. Most of the cottages moved to the old vicarage fields in Solf village were furnished as artisan's living quarters or workshops.
At Stundars the following traditional professions are represented: smithy, shoemaker, potterer, stone-cutter, copper-smith and brass founder. We are also presenting the shopkeeper of the general store, the millner, the soldier and the sailor, in addition to the farmer and his servants and all those who worked at a newspaper's office.
The whole museum village is one big crafts exhibition

Topp
At Stundars, every timber wall and every iron pot is a prime example of traditional, Ostrobothnian crafts. The museum village is a great source of inspiration when you renovate, restore or build new. Through studying the buildings and their decoration, you can learn more about old techniques or see more examples of how the same technique have been used.
Utilities made in metal

Topp
The smithy: knife, axe, stove hook, different fittings, nails, barrel hoops etc.
The tin-smithy: bread and cookie moulds, jugs, mugs, sconces etc.
The brass foundry: bells, cups, handles, signs, flat-irons etc.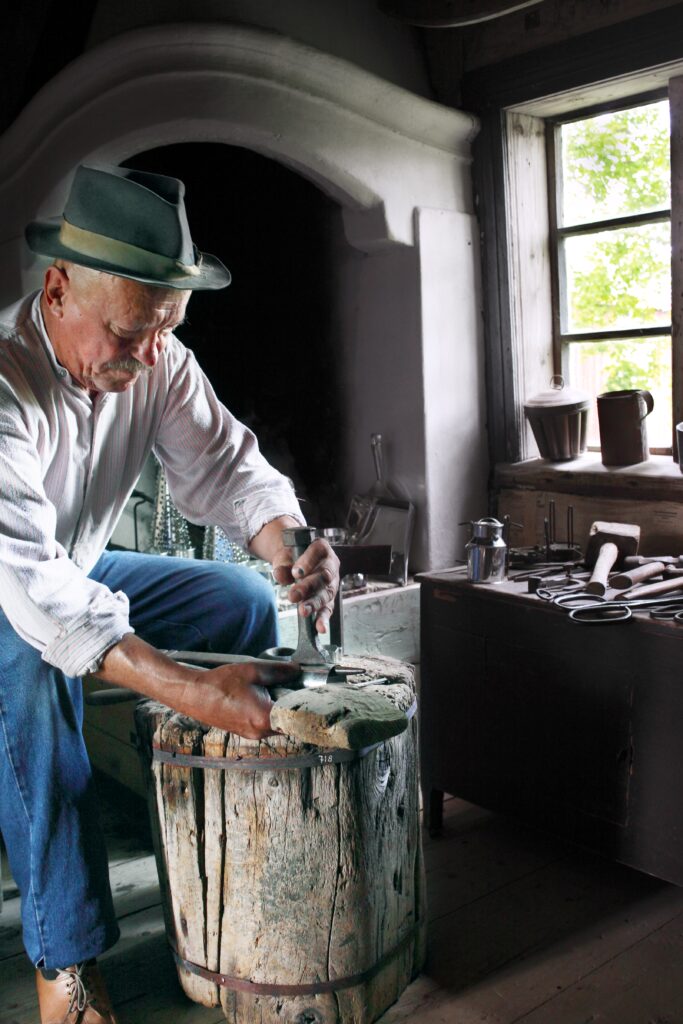 Traditional Ostrobothnian architecture

Topp
All the museum cottages and buildings have been moved here from somewhere else and restored with the greatest respect for the old techniques that were used in the region 100-150 years ago. Our carpenters and conservators continuously strive to, as much as possible, use traditional materials in the care of the buildings. In the museum buildings, you can therefor still see different kinds of roof materials (such as reed, straw, wood shingles and boards) and different surface finishing (such as sprinkle-painting, traditional red ochre paint, tar or clay daubing). There are also all kinds of doors, windows, furniture and finally different kinds of ways to make fireplaces and chimneys.
Utilities made of wood – usually carpented at home

Topp
Timber houses, wooden roof shingles, fences, stairs and ladders, bridges, outhouses and sheds etc.
Bunkbeds, benches, chests, tables, chairs, grandfather clocks, wall cabinets etc.
Carriages, sleighs, sleds, ploughs, rakes, handles for shovels and scythes etc.
Ladles, whisks, barrels, boxes, bowls, plates, cases, spoons etc.
Spinning wheels, spindles, cards, washboards, looms, mangle boards etc.
A very special trait of the Finnish culture is to do things on "talko", which means that certain bigger tasks were done communally in the village, like thatching a roof, building a road or carding all the wool for the winter's crafts. Sometimes it was family and neighbours that helped, sometimes half the village. In this part of Ostrobothnia, these talko events were called parties, so you arranged like a roofing party (when the men gathered to thatch a roof) or a spinning party (when women gathered to spin wool into yarn). Through the decades, most things at Stundars were done on talko, with numerous volunteers helping out. Still to this day, we couldn't manage without our talko-workers on bigger events like the markets or Artisan's days.
Stundars really looks like an old, Ostrobothnian village – with a few exceptions. The most visible exception is that the buildings weren't painted red before towards the end of the 19 th century. Before that, all buildings big and small (besides the vicarage and church) were a weathered grey. In certain cases, the building manager at Stundars also decided to use more modern roof materials, simply to better protect the valuable museum objects inside from leakage. Some cottages also have UV-filtered windows or drapes to protect the interiors and objects from bleaching from the sunlight.
Self-sufficiency and local artisans

Topp
All over Stundars there are signs of how the Ostrobothnian people for centuries made most of what they needed themselves. Most people were really skilled with their hands and knew how to make everything from butter and butter-churns to sleighs and sleigh-covers. Almost all household items from wood were made by the farmer and his sons and farmhands themselves, just as his wife, daughters and milkmaids did everything textile from sheep wool, flax and cotton yarn. Nothing was wasted, you used every part of a sheep you slaughtered and every part of a tree you felled.
Materials used in the era of self-sufficiency:
wood, leather, stone, clay, wool, flax, hemp, nettle, bullrush, straw, reed, pigments, turpentine, garneted stock, horsehair, cows hair, cardboard etc.
What you couldn't make yourself, you usually bought or traded from the local artisans like the smith, tailor or tin-smith. Sometimes it was a neighbour, villager or relative who was especially skilled at some technique, and then you could order your wedding gown or wooden boat from that person. Some artisans went from farm to farm and painted furniture or mended shoes.
Before the general stores became a common sight in the countryside, there were not many products you bought at the market square or in the shops in the towns (like Vaasa, Umeå, Stockholm or Turku). Mostly it was imported goods that you bought, like coffee, sugar, salt, tobacco, porcelain and spices. With the industrial revolution in these parts of the world, new products were soon spread to the general stores from the steam mill or soap factories in Vaasa or the clothing manufacture in Oravais.
Crafts made by women

Topp
For decades, Stundars enthusiasts put all their efforts towards building the artisan's village, the part of the open-air museum now called the Grey Village. And as was the custom of the era, it was the crafts dominated by male artisans that was promoted though the museal workshops and cottages. But there were a lot of extraordinary female artisans too in the preindustrial Ostrobothnia. A fine example are all the beautiful bed textiles that still can be admired in all the bunkbeds and extendable sofas of the museum cottages. The time and effort it took for women to cut, card, spin, colour and weave all these fabrics is unfathomable. But unfortunately, all these masterpieces are made of transient, perishable materials. Take the culinary crafts as an example – those products were simply, well, eaten.
Sources of nutrition a century ago:
Carbohydrates: grains, potatoes, root vegetables, berries, honey
Proteins: fish, meat (lungs, intestines, blood, liver, spleen, bones), egg, peas, milk products
Fats: grease, butter, pork, lard
Other: salt, spices, east, coffee, root beer
Today, only butter-churns and sausage-making horns, spinning wheels and looms remind us of the hardworking foremothers of Ostrobothnia. Because, neither can clothes and textiles withstand time in the same way as metal or even wood can. But the main point of founding museums at all is so we won't forget. Nowadays, you can see exhibitions and furnished cottages in Stundars that show a little bit more of what life was like for women on the Swedish-speaking Ostrobothnian countryside. In the Carpenter's food shed – or actually his wife's – you can see some of the raw materials women had to make something of to put food on the table. And in the Copper-smith's cottage, there is an exhibition about the care and wash of textiles – a chore just as important 150 years ago as it is today.
Artisan's Days

Topp
A few times every year, all the small artisan's cottages come to life, when craftsmen and -women gather to demonstrate the skill of their hands live. There is a smith in the smithy and a brass founder in the brass foundry, but also knitters, broom-makers, spinners, lacemakers and carpenters all over the museum village. That is also when some of the staff of Stundars gets to show their craftsmanship, like thatching a roof with wooden shingles or sprinkle-painting lining paper walls with linseed oil paint.
In May, hundreds of students are invited to a Artisan's day of their own, when fifty or so artisans demonstrate all kinds of traditional Finnish crafts.
"Every child should learn a craft. For real, not for play. There are times in life for play and there are times in life to accomplish something – even for children. You can't play all the time", Frida sighs. "And is there really anything better than to come home and sit down with a hobby? To forget time and space?"

Frida Paulin, Stundars' lacemaker in the book "Stundars" from 2013.
We can warmly recommend a visit to the summer's Artisan's Day, that usually takes place the last Saturday of July. Then you have the chance to taste a piece of traditional food craft: Stundars "Nugget Soup" made in iron pots over open fires, and of course, the famous sugar pastries called "jam pigs".
RYE BREAD RECIPE here?
Focus on the crafts at Stundars' markets

Topp
During the Autumn and Christmas markets at Stundars we want to promote the traditional crafts and give artisans a chance to sell their products in an atmospheric milieu. We embrace the locally produced, the environmentally friendly and the artistic, and respectfully decline modern industrial products made in artificial materials at our traditional markets in the picturesque museum village.
The Artisan's Guild Björken

Topp
Hantverkaregillet Björken r.f. is an association of active artisans, craftsmen and women that, among other things, participate in the Artisan's days at Stundars. The association has about 100 members, and uses the old guild system with masters, journeymen and apprentices.
Here is the homepage of the Guild, and if you are interested in joining or learning a craft, please contact one of the board members. (LINK!)