Welcome to Stundars

Topp
Open every day from 11 am to 4 pm 26.6-15.8
The Stundars Open-Air Museum area is open for recreation all year round, but during the summer season the cottages of the museum village are open every day from the 26th of June to the 15th of August from 11 am to 4 pm.
During the opening hours the doors are open to the museum cottages, the exhibitions, and the historical playhouses. There are also members of the staff in the museum village that can tell and show you what life was like on the Ostrobothnian countryside a century ago.
Entrance fees

Topp
Adults: 7 €
Students and pensioners: 5 €
Children 2-17 years: 3 €
Children under 2 years: free entrance
At Stundars you can pay with cash, credit card, MobilePay and the Finnish MuseumCard. For an invoice, please contact info@stundars.fi in advance.
When you have paid the entrance fee, you will get a sticker. Wear it on a visible spot on your person, and you may come and go as you please between the museum village, café and playground during the opening hours of that day.
How to get here

Topp
Stundarsvägen 5, 65450 Solf, Korsholm/Mustasaari, Österbotten/Pohjanmaa (Ostrobothnia in English) Google Maps
To get to Stundars you will need a transportation of your own, like a car or a bicycle. Stundars is situated about 17 kilometres from Vaasa city centre.
If you like to go by bicycle from Vaasa, we recommend that you chose the scenic route via Vaskiluoto and Sundom. After Sundom village, the Sulvantie follows the remarkable Söderfjärden meteor crater.
Through Stundars Open-Air Museum you can follow a part of the historical Saint Olav's pilgrim trail. Ot the website you can find a map for it and read more about the trail.
Activities and guided tours

Topp
There is a lot of interesting things to discover at Stundars. Every day during the summer season, there are different activities and guided tours you can join. To partake in them is included in the entrance fee.
Today´s activity might be that the staff is baking rye bread in the Smithy's cottage or doing laundry in the traditional style outside it. Please join us! Or maybe the Children's wood shop is open? Our farm animals are also looking forward to a visit from you – and if you're lucky, it might be dinnertime for the rabbits, goats and chicken.
Our staff is happy to tell you all about what life would have looked like in grandpa's father's childhood. With a little help from them, you might also try out a few traditional handicrafts or chores for yourself, like carding wool or weaving floor mats.
During the guided tours you can listen to stories about what the mystical Wise Woman used to do 150 years ago, or why the farmer preferred to sleep in an almost upright position. The guided tours are included in the entrance fee and are starting every hour from the old Milk Table in the middle of the museum village.
Our guides speak English, Swedish and Finnish. For our visitors, there are also written guides for the museum in Spanish, French, German and Italian.
In our calendar you can check what's on the agenda for today at the museum.
You can also book your very own guided tour for your group. Here are the different kinds of guided tours you can choose from, their fees and our contact information.
Refreshments and shopping

Topp
Have a taste of traditionally flavoured ice-creams or enjoy a well-seasoned soup at Cirka's café. Sirkka is also selling everything from locally produced craft foods to wonderful yarns and interior design items. Check out Cirka's opening hours and what´s for lunch today or book a table for her renowned brunch through the café's own website.
The Hemmer Restaurant is open for group reservations and on the big event days at Stundars. Numerous memorable parties and interesting courses, seminars and personnel days have been spent here through the years. The restaurant is named after the house it resides in, Hemmer House, that was the childhood home of the author and poet Jarl Hemmer (1893-1944). The whole house was moved here from Vaasa, and it also includes a memorial room dedicated to the famous poet. You can visit it during the museum's opening hours during the summer, and Hemmer House is also open on larger event days at Stundars. On the restaurant's website, you can find more information and book everything between a light lunch to a three-course dinner for your group on your special day.
Here we have gathered more things that are good to know when planning a visit to Stundars.
The year round at Stundars

Topp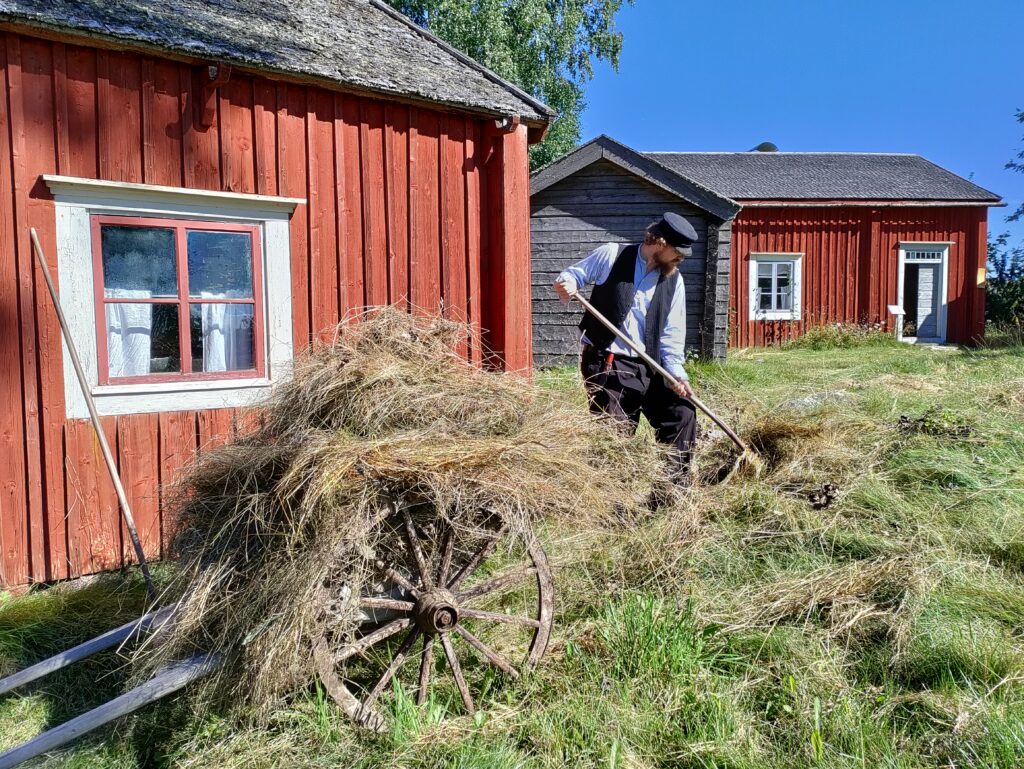 Enjoy the historical milieu all year round.

Topp
The cottages at the Stundars Open-Air Museum are now closed for the season, but the museum village is open for strolling, skiing or for just enjoying a quiet moment in the peaceful idyll. If the gates are open, welcome!
Groups are also welcome to use the area – but be sure to let the staff at Stundars know about your visit. The doors to the cottages are locked, as are the historical playhouses and toilettes. If you want to book a guided tour for your group or an activity package, please visit this webpage.
Open on Thursdays all year round

Topp
On Thursdays during autumn, winter and spring, there are free guided tours and other activities at the museum from 12 to 3 pm, as advertised. You can find a more detailed program in our calendar, and on our Facebook-page and Instagram account. During the Museum-Thursdays, there is free entrance.
Here you can see what kind of events that are usually arranged at Stundars during the year.
For kindergartens and school groups

Topp
During the spring and autumn and for a month before Christmas, Stundars is visited by thousands of children from kindergartens and schools. In the museum village at Stundars, we can tailor an event according to the specific needs, interests and curriculums of the group. Our staff offers a large range of activities, planned according to museum education methods, that can be combined to create the best possible experience for children and youth. You can also arrange your own activities for your group in the museum village, but please let us know about your visit beforehand. For more information, you are welcome e-mail us at info@stundars.fi or call us on +3586 570 99 000.
For groups

Topp
Stundars is also a popular and inspiring milieu to arrange everything from meetings or seminars to wedding and family events in. If you would like to include refreshments (everything from afternoon coffee to a three-course dinner) in your special day at Stundars, please contact either the Hemmer restaurant or Cirka's café to book a menu and the room for your event. Then Stundars can offer a wide – and a little bit different – range of guided tours, historical activities, friendly competitions or other experiences to choose between, to make your day extra interesting and informative. Read more about our offers here.
Our larger events

Topp
A few times a year, the museum village is filled with an enticing mix of joyful voices, the scent from our famous sugared pastries (or "jam pigs" in Swedish), flickering lantern lights and the products of skilful hands. The First of May, the Artisan's days, Play day, the Autumn Market and finally the Christmas Market are widely known happenings at Stundars museum. These are experiences You really shouldn't miss out on. Keep track of the dates in our Calendar!
At Stundars you can pay with cash, credit card, MobilePay and the MuseumCard. For an invoice, please contact info@stundars.fi.
Sights close by

Topp