Stundars is very much a living museum, where every building is a valuable museal object in itself. The whole museum village can be seen as a huge open-air exhibition. There are hardly any hindering glass showcases or cabinets, and you can come so close to the old tools, furniture and household items that you can almost hear them whisper about times long gone.
Most interiors in the old living quarters and workshops in the museum village are part of our permanent exhibitions. That includes the Printing Museum and Hemmer's memorial room. Read more about the enticing museum buildnings here.
This year's exhibitions in the museum

Topp
Every year our staff has built a few new or renewed, more temporary exhibitions in some of the museum cottages. To see these exhibitions is included in the entrance fees.
Among feather bolsters and sheep fleeces – An exhibition of Ostrobothnian bed textiles
How did people really sleep in the old days? In all our museum cottages there are bunkbeds, pull-out sofas and cradles – but they are all nicely made up with the most beautiful covers on top. That is how it traditionally was done before the Midsummer festivities in these parts of Finland. The people of the farm slept instead in lofts and sheds, hill farms and fishing cabins during the short, light summer nights. That's why you can't see the fine quilts, woolly fleeces, pillowcases of linen and sheets of woven wool in the authentic interiors. But with the help of a large donation, we can now literarily pull off the covers, and show the exquisite craftsmanship of the Ostrobothnian women of old. You can see this exhibition in the Potter's cottage.
Laundry and gossip, two things that never end – An exhibition about laundry and textile care in older times
Not long ago, women were real masters at making clothes that could withstand a lot of wear and tear. But they were especially good at taking care of their textiles to make them last as long as possible. Clothes and bed clothes were expensive and time consuming to make, but the laundering also took a lot of precious firewood and numerous heavy buckets of water. We modern folk could really pick up a thing or two about material choices as well as textile care from those smart women. And that is not the only thing that was better in the old days: then, women almost always took care of boring stuff like laundry together, laughing and talking as they worked. This exhibition is placed in the Copper-smith's cottage.
In the depths of Johanna's larder – An exhibition about food in the old Ostrobothnia
A hundred years ago, there still were no fridges or electric stoves and no vacuum packages or freezers. Things that we take for granted today. So how did people store food in older days? What conservation methods did they use, when sugar was expensive and ice – well, melted. How did you protect the cheese from hungry rodents and what did you do when the milk had turned sour? And what did they have for dinner? At Stundars, we have gathered ingredients from all the farm's larders and flour sheds, root cellars and pantries to show in one single shed, to show you the culinary heritage of Ostrobothnia. And Johanna, well she was the wife of the knot basket maker that built the Carpenter's cottage a century and a half ago. The exhibition is made in her honour, and in the honour of every woman before her.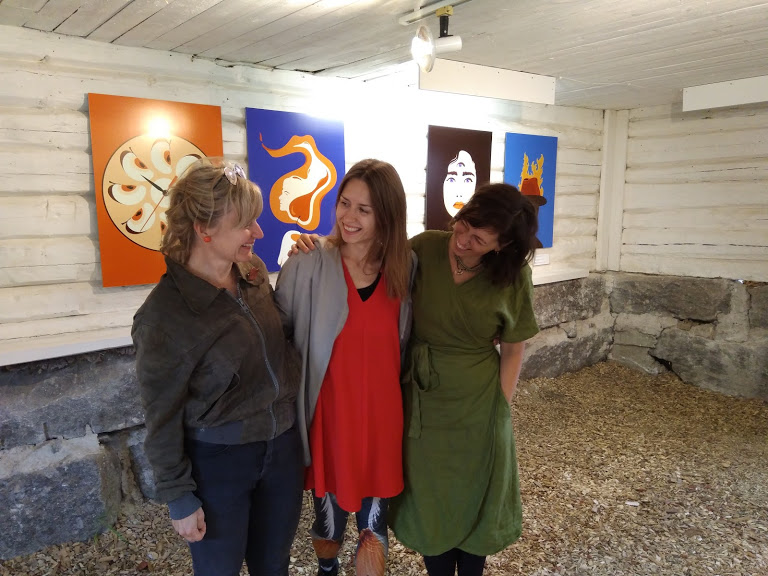 The art exhibitions at Stundars

Topp
Every summer, we have at least three different art exhibitions at Stundars. For that purpose, we have three different exhibition spaces, each one with its unique milieu and light. The biggest one is on the second floor of the winsome Hemmer House. Then there is the old animal barn with its white-washed timber walls and rough stone base. The smallest is the Stonemason's cottage, where the art is framed by sprinkled wallpapers and sturdy benches.
There is no entrance fee to see only the art exhibitions. To see the museum exhibitions and interiors too, you will of course pay the entrance fee to the museum. The exhibitions are open during the opening hours of the museum and during our larger events.
Hemmer House

Topp
30.6-15.8.2023 Artist Susanne Broända
30.6-15.8.2023 Artist Margaretha Hakko
The Animal Barn

Topp
1.5-22.6.2023 Artist Martina Uthardt
30.6-15.8.2023 Visual artist Janika Löfqvist
The Stonemason's cottage

Topp
30.6-15.8.2023 Visual artist Oscar Hagen
Here you can read more about Atelier Stundars and about our Artist in Residence-programme.